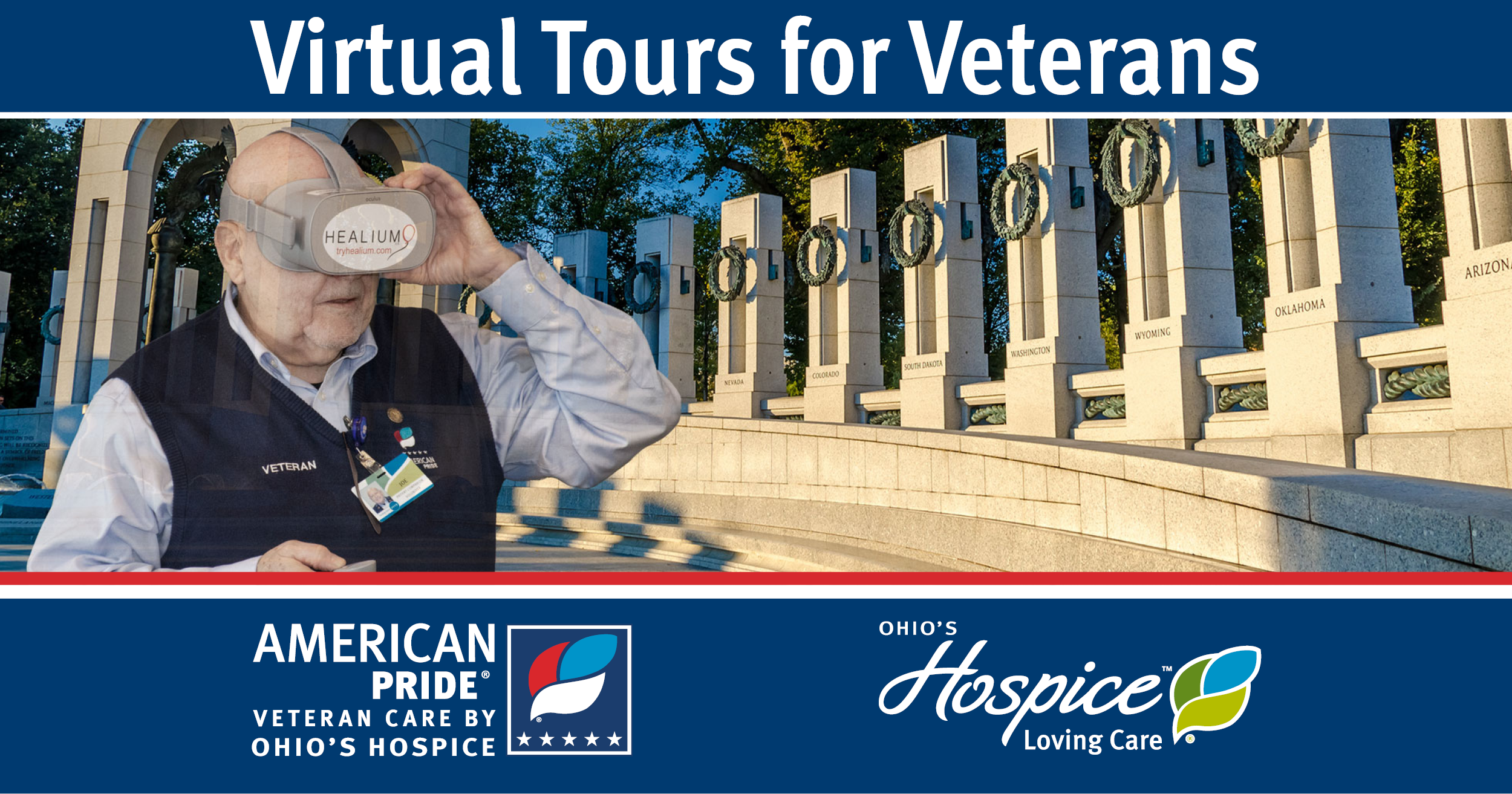 Ohio's Hospice Offers Veterans a Virtual Tour of the National Mall in Washington, D.C., During Memorial Day Weekend
Before COVID-19, Veteran volunteers of Ohio's Hospice offered virtual tours of war memorials for Veteran patients who were not physically able to travel on an Honor Flight trip to Washington, D.C. Because of COVID-19, these volunteers are not able to offer this service in person to Veteran patients. However, thanks to Healium, Veteran patients and their families can download two free portal apps to virtually visit the World War II, Vietnam, Korean and Women's memorials in Washington, D.C.
"During Memorial Day Weekend, this is an opportunity for families to gather, whether they live in the same household or connect through social distancing, and to watch the tours together as they reflect on Memorial Day," said Bob Allen, American Pride coordinator at Ohio's Hospice. "This type of virtual visit can provide closure, ease emotional pain, and fulfill long-standing dreams for patients facing the end of life."
Through American Pride® Veteran Care by Ohio's Hospice, Ohio's Hospice honors the service of Veteran patients and assures them of receiving the highest quality of care. In addition to celebrating and thanking Veterans for their service, American Pride assists patients in obtaining access to all the benefits to which Veterans are eligible, provides spiritual support, and addresses individual post-traumatic stress issues.
"It has always been a point of honor for Ohio's Hospice to recognize its Veteran patients for their service to the United States and to maintain a Veteran-centric approach to the highest level of care Ohio's Hospice can provide," Allen said. "We look forward to when our Veteran volunteers can return to offering our virtual reality program in person. But we're grateful to Healium for providing us with another solution."
Sarah Hill, CEO and chief storyteller of Healium, said that the company is thrilled to offer these apps to Veterans.
"The program is part of our company's social purpose," she said. "It is made possible through our partnership with Ohio's Hospice."
Healium is a group of storytellers, psychologists, developers, filmmakers, audio engineers and technologists. The group developed a virtual reality solution for terminally-ill Veterans who were not able to physically travel to see their war memorial in Washington, D.C.
"By using these apps, you can virtually open a jet door in your living room and be on the flight deck of the USS Nimitz in the Pacific Ocean," Hill said. "You can press buttons on your iPhone, iPad or Android device to fly through the clouds and be transported to different memorials around Washington, D.C."
For more information about American Pride, visit www.OhiosHospice.org/American-Pride or email Ohio's Hospice at info@OhiosHospice.org.
To access those apps, click here for the iPhone app. Click here for the Android app.
Ohio's Hospice is a partnership of mission-driven, not-for-profit hospices in Ohio committed to a shared vision of strengthening and preserving community-based hospices. Members of Ohio's Hospice share the values of serving each patient in an atmosphere of hospitality, respect and caring; attending to the social, physical and spiritual needs of each person we are privileged to serve; preserving and enhancing patient dignity; celebrating the life of each individual we serve; and reducing unnecessary suffering in the communities we serve.
Affiliates of Ohio's Hospice include: Community Care Hospice, Hospice of Central Ohio, Ohio's Community Mercy Hospice, Ohio's Hospice at United Church Homes, Ohio's Hospice LifeCare, Ohio's Hospice Loving Care, Ohio's Hospice of Butler & Warren Counties, Ohio's Hospice of Dayton, Ohio's Hospice of Fayette County and Ohio's Hospice of Miami County.