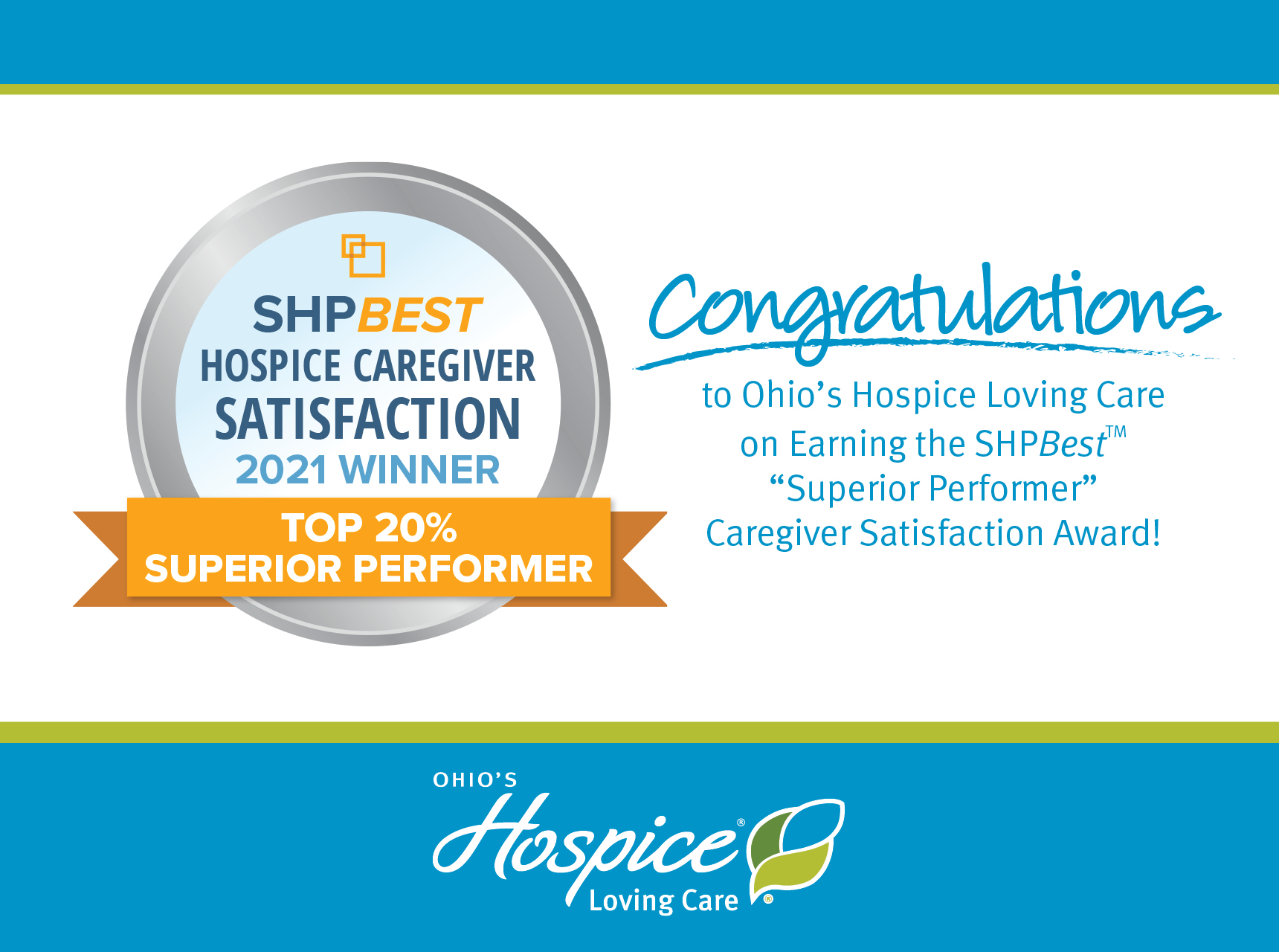 Ohio's Hospice Loving Care Earns 2021 SHPBest™ "Superior Performer" Caregiver Satisfaction Award
Ohio's Hospice Loving Care has been recognized by Strategic Healthcare Programs (SHP) as a "Superior Performer" for achieving an overall caregiver and family satisfaction score that ranked in the top 20% of all eligible SHP clients for the 2021 calendar year.
The annual SHPBest™ award program was created to acknowledge hospice providers that consistently provide high quality service to families and caregivers of patients receiving hospice care. The 2021 award recipients were determined by reviewing and ranking the overall Consumer Assessment of Healthcare Providers and Systems (CAHPS) Hospice survey satisfaction score for more than 1,000 hospice providers. With one of the largest CAHPS Hospice benchmarks in the nation, SHP is in a unique position to identify and recognize organizations that have made family and caregiver satisfaction a priority and have been rewarded for their efforts with high marks on the CAHPS Hospice survey.
"SHP is proud to present the SHPBest award to our top-performing customers. We commend these organizations for their continuous focus on delivering the highest quality of care to their patients," said Rob Paulson, president of SHP.
Ohio's Hospice Loving Care is honored to receive the award. "Our care team is committed to providing superior care and superior services to each patient and family we are privileged to serve," said Andrea Baker, executive director of Ohio's Hospice Loving Care. "At Ohio's Hospice Loving Care, we're committed to setting the highest standard of care to ensure that our patients have access to world-class care."
Read more about the SHP Best awards program, including methodology and award recipient lists at https://www.shpdata.com/hospice/shpbest-cahps-hospice/.
About Ohio's Hospice Loving Care
Ohio's Hospice Loving Care is an affiliate of Ohio's Hospice. Based in Marysville, Ohio's Hospice Loving Care began in 1993 as a grass-roots organization to provide hospice services to patients and their families in Union and Madison counties. It also provides home healthcare services in Madison County. The not-for-profit hospice helps patients to live with dignity, comfort and control by establishing goals for a better quality of life. The hospice team serves patients wherever the patient calls home, involving patients and family in choices and decisions.

About Strategic Healthcare Programs (SHP)
Strategic Healthcare Programs (SHP) is a leader in data analytics and benchmarking that drive daily clinical and operational decisions. Our solutions bring real-time data to post-acute providers, hospitals, and ACOs to better coordinate quality care and improve patient outcomes. Since 1996, SHP has helped more than 7,000 organizations nationwide raise the bar for healthcare performance.