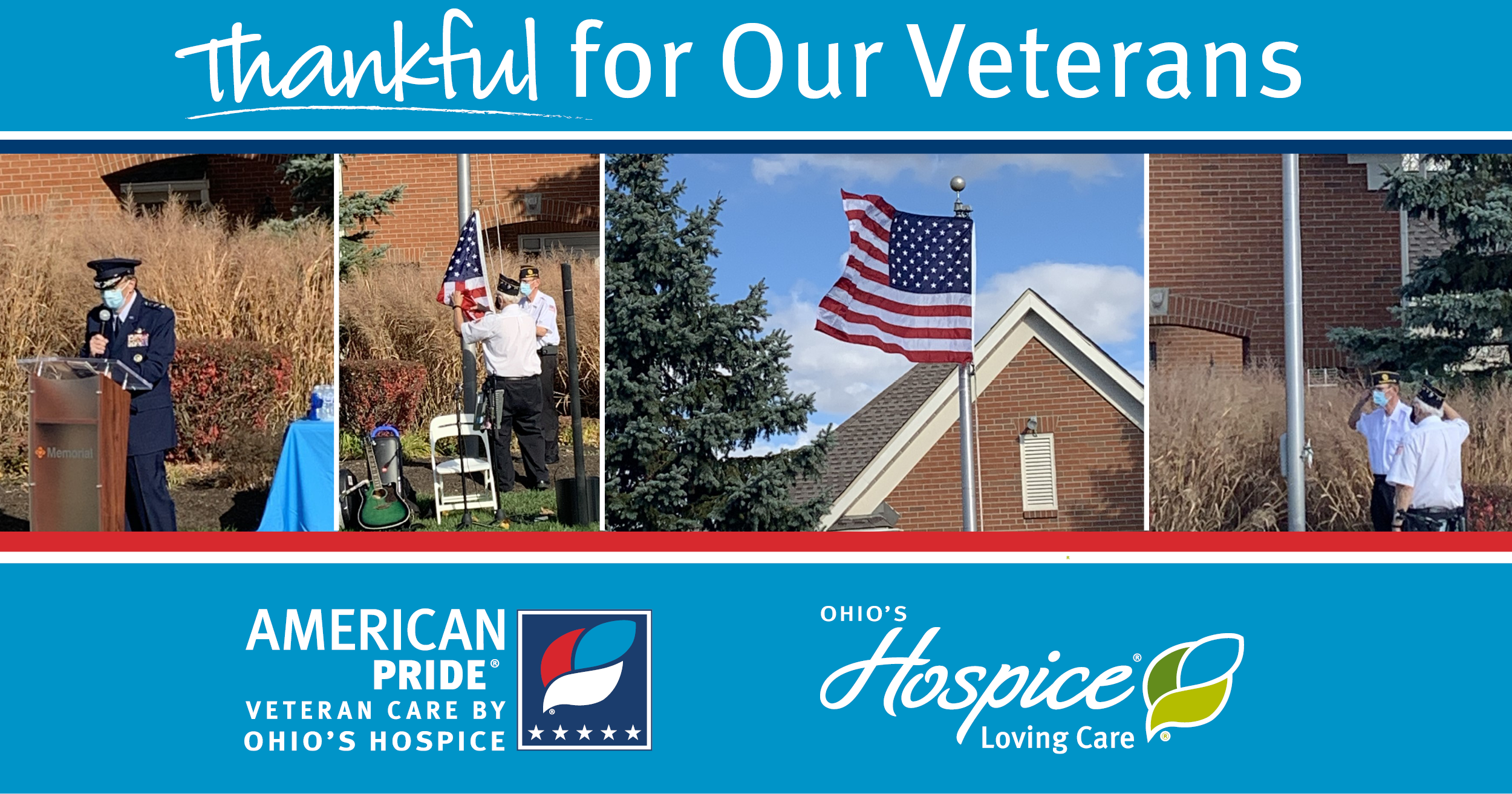 Ohio's Hospice Loving Care Held Flag Raising and Veteran Recognition Ceremony at Memorial Gables
Ohio's Hospice Loving Care held a flag raising and Veteran recognition ceremony at Memorial Gables in Marysville on Nov. 10, to recognize and honor Veteran patients for their service and sacrifice. The event featured a flag presentation, a color guard flag raising and patriotic songs.
Ohio's Hospice Loving Care continues to honor Veteran patients each and every day for their service to the United States. Through American Pride® Veteran Care by Ohio's Hospice, Ohio's Hospice Loving Care honors the service of Veteran patients and assures them of receiving the highest quality of care.
In addition to celebrating and thanking Veterans for their service, American Pride assists patients in obtaining access to all the benefits to which Veterans are eligible, provides spiritual support, and addresses individual post-traumatic stress issues. Through participation in Veteran recognition ceremonies and special observances and celebrations, Ohio's Hospice Loving Care celebrates the lives of Veterans and honors their contributions.
Bob Allen, American Pride coordinator with Ohio's Hospice, spoke about Veterans Day at the flag raising and Veteran recognition ceremony. "On the 11th hour of the 11th day of the 11th month, the fighting of World War I ended in 1918. Due to the conclusion of the War to end all Wars, Nov. 11 became a universally recognized day of celebration," he said. "So, today we honor all of our Veterans who unselfishly placed their lives on the line for our freedom. These men and women were ordinary people until they heard the call of duty and answered it."
He described how Veterans left their families, their homes and their lives, not for recognition, fame or even honor bestowed upon them. "They fought to protect our country and to maintain our way of life," said Allen, a Vietnam Veteran who served as a captain in the United States Army. "As we honor our Veterans and remember their great deeds, let us also salute those who are currently fighting for our freedom."
Allen discussed how the freedom enjoyed by all Americans is special and must be defended. "Veterans Day isn't just a day for Veterans — it's a day for all Americans," he said. "It's a day to remember why they were fighting and a day for all of us to begin our journey of protecting our freedom of many future generations."
Ohio's Hospice Loving Care is an affiliate of Ohio's Hospice. Based in London and Marysville, Ohio's Hospice Loving Care began in 1993 as a grass-roots organization to provide hospice services to patients and their families in Union and Madison counties. It also provides home healthcare services in Madison County. The not-for-profit hospice helps patients to live with dignity, comfort and control by establishing goals for a better quality of life. The hospice team serves patients wherever the patient calls home, involving patients and family in choices and decisions.