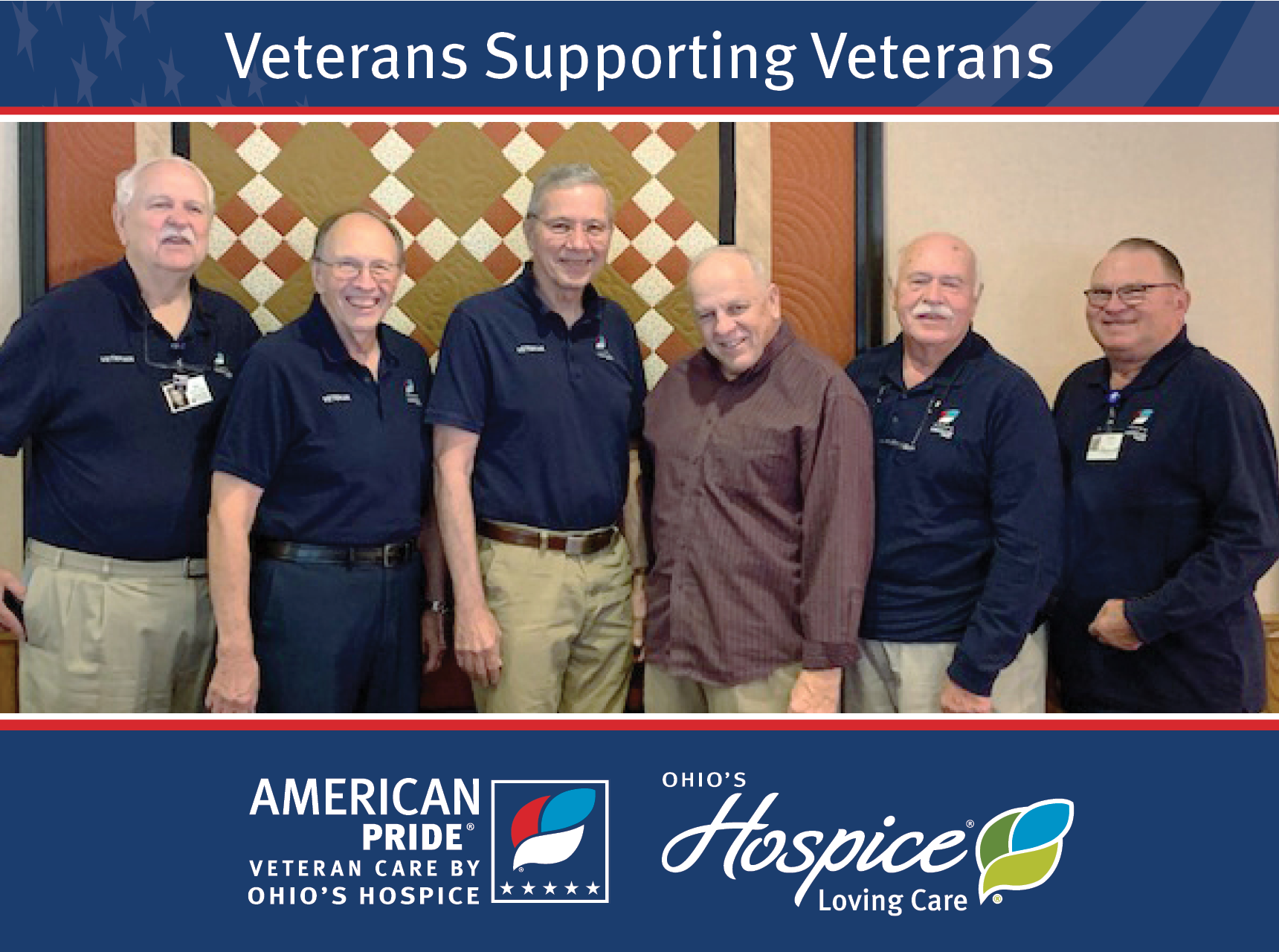 Veteran Volunteers Recognized at Surprise Appreciation Event
Ohio's Hospice Loving Care recently recognized six Veteran volunteers with a surprise appreciation event at Der Dutchman in Plain City. As they gathered for what they thought would be a breakfast event, their families and other volunteers were assembled in another area of the restaurant. When they were led to the dining area, the volunteers and family members sang "God Bless America."
The six Veteran volunteers who were honored are John Dellinger, Charles Stenner, Jerry Poff, Greg Wolfe, Rolly Rausch, and Gene Nicol.
"We were honored and privileged to surprise our Veteran volunteers with this event," said Annetta Dellinger, volunteer manager at Ohio's Hospice Loving Care. "This surprise event was a way to recognize and express our appreciation to our Veteran volunteers for their support of our mission."
As part of American Pride® Veteran Care by Ohio's Hospice, these Veteran volunteers help honor the service of our Veteran patients. The American Pride program assures Veteran patients of receiving the highest quality of care. In addition to celebrating and thanking Veterans for their service, American Pride assists patients in obtaining access to all the benefits to which Veterans are eligible, provides spiritual support, and addresses post-traumatic stress issues. Through participation in Veteran recognition ceremonies, Honor Flight, and special observances and celebrations, Ohio's Hospice Loving Care celebrates the lives of Veterans and honors their contributions.
The event at Der Dutchman included personal thank-you notes from families who had a loved one recognized in a Veteran recognition ceremony. Tom Schwind, chaplain; Stephanie Jeffords and Mark Miller, medical social workers; and Robert Allen, American Pride coordinator, also spoke about what the Veteran volunteers' gift of time truly means to our Veteran patients.
Ohio's Hospice Loving Care is an affiliate of Ohio's Hospice. Based in Marysville, Ohio's Hospice Loving Care began in 1993 as a grass-roots organization to provide hospice services to patients and their families in Union and Madison counties. The not-for-profit hospice helps patients to live with dignity, comfort and control by establishing goals for a better quality of life. The hospice team serves patients wherever the patient calls home, involving patients and family in choices and decisions