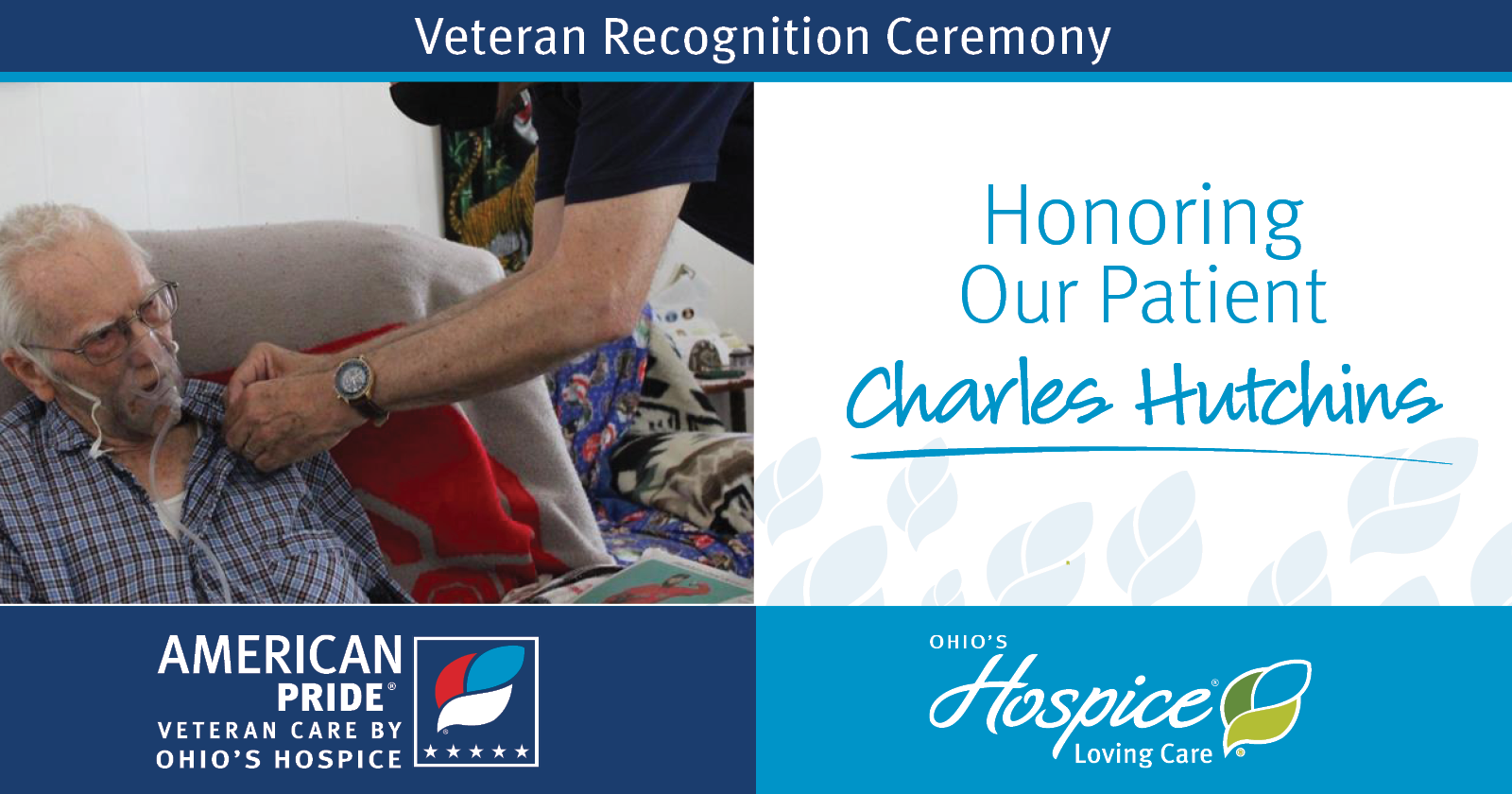 Ohio's Hospice Loving Care Honors Patient With Veteran Recognition Ceremony
Ohio's Hospice Loving Care recently recognized one of its patients, Charles Hutchins, with a Veteran recognition ceremony honoring his 34 years of service in the military.
Gerald Poff, a chaplain with Ohio's Hospice Loving Care, presented a pin and a certificate to Hutchins during the ceremony. He also presented a pin to Hutchins' wife, Maxine.
"I have always been proud of my husband," she said. "It's an honor for both of us to receive a pin."
Through American Pride® Veteran Care by Ohio's Hospice, Ohio's Hospice Loving Care honors the service of Veteran patients and assures them of receiving the highest quality of care. In addition to celebrating and thanking Veterans for their service, American Pride assists patients in obtaining access to all the benefits to which Veterans are eligible, provides spiritual support, and addresses individual post-traumatic stress issues.
"It is an honor to recognize our patients who are Veterans," Poff said. "We celebrate the lives of our Veteran patients and honor their contributions to the nation."
Hutchins is a retired career military chief master sergeant and superintendent of maintenance in the U.S. Air Force and Air National Guard. During his service to the nation, he was awarded an Air Force Commendation and National Defense Award for serving during conflict.
He aspired to be a surgeon before he was drafted into the Korean War. "This was before schooling was offered to those serving in the military," Hutchins said. "It was too expensive to pursue schooling and work simultaneously to pay for it."
He was stationed in Greece, Alaska and Hawaii. While in Hawaii, he remembers Kodak hosting a luau show on the beach. He also witnessed the testing of the atomic bomb in the United States.
His best memories were getting to travel and see new places. His wife recalled the difficulty of laundering and pressing his uniforms. She also sewed the military emblems on his uniforms.
Hutchins appreciated serving with the dedicated and durable men in service with him. "The hardest part of serving in the military was being away from my wife and five children," he said.
He and his wife met in grade school. They moved to London, Ohio, in 1957, and they have resided in the same house where they raised their five children. They now have a total of 55 grandchildren, great-grandchildren and great-great grandchildren. Hutchins is an Ohio State Buckeye fan, and he enjoyed hunting and fishing before he became ill. 
Ohio's Hospice Loving Care is an affiliate of Ohio's Hospice. Based in London and Marysville, Ohio's Hospice Loving Care began in 1993 as a grass-roots organization to provide hospice services to patients and their families in Union and Madison counties. It also provides home healthcare services in Madison County. The not-for-profit hospice helps patients to live with dignity, comfort and control by establishing goals for a better quality of life. The hospice team serves patients wherever the patient calls home, involving patients and family in choices and decisions.